Types of Rock
The standard disclaimers about how dangerous climbing is and how unreliable anything is you read anywhere apply here as well. This site is far from definitive (and probably far from accurate). It is here for the amusement of myself and friends and possibly to shed some light, though I don't mind a little obfuscation now and again either. Various parts have been adapted and pilfered from sources found hither and yon, though I have tried to make all entries mostly original. So please read, but remember that responsibility for safe climbing is your own.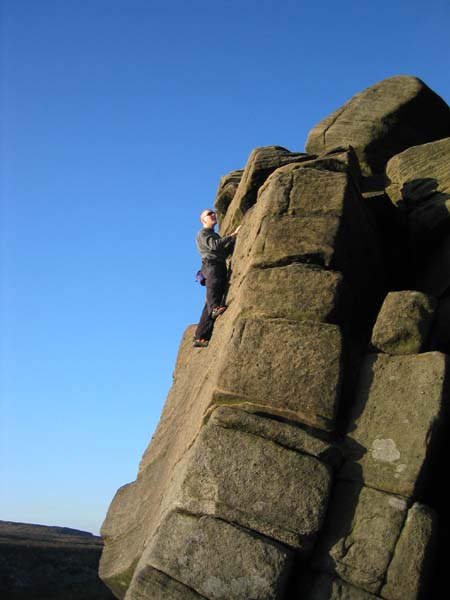 1. Gritstone.
Why climbing is fun.
Sprinkled liberally amongst the valleys and peaks of that gorgeous part of this idyllic isle called Yorkshire (oh, and there s a fair bit in the Peak District and elsewhere as well), this is commonly known as God s own Rock .
Others have described it on the lines of If you can climb this sh*te, you can climb anything .
Gritstone is characterised by a very rough, sandpaper-like feel, a significant lack of anywhere to put gear and no holds. Gritstone is about as far away from the climbing wall as you can get with rock.
To climb gritstone will require mastery of the Jam, Slopers (using the friction between what little is left of your skin and the sandpaper-like rock to hold yourself in place), udging not an elegant way to climb, plus significantly more than the average allowance of guts, determination, bloodymindedness and a general inability to admit defeat. In addition, making peace with your maker and being ready to meet him on a daily basis is probably a good thing too.
Someone described a True British route as no holds, long run-out, poor gear and a dreadful landing This is Gritstone.
The thing about gritstone is you have to have the head for it. Being strong is useful, being technically good is not bad at all, but you must be happy with that run-out. You must be happy that your next move may be your last!
Where is Gritstone?
All over. The biggest venue is probably Stanage, in the peaks, though there s also The Roaches, Froggart, Burbage North and South, Almscliff, Ilkley, Caley, Baildon,
2. Limestone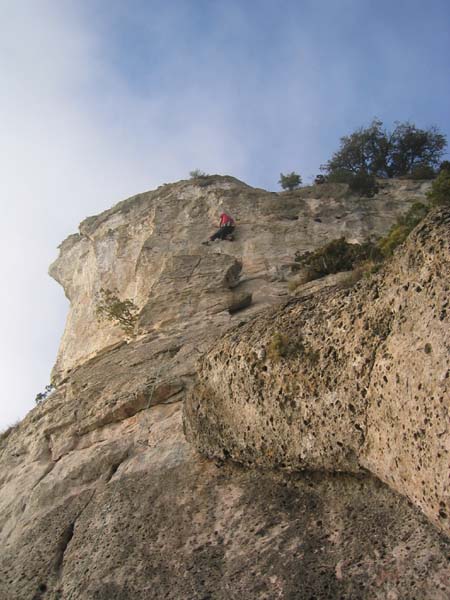 Is actually good fun as well. Limestone is much more like climbing on an indoor wall, with a series of decent holds linked by technical moves. As such skills learnt on an indoor wall are more transferable, and, when in good condition, its lovely rock to climb on.
Much limestone is bolted in the Uk, as it has a tendency to be friable i.e. fall apart which can be disconcerting when you are trying to lead up it. I remember going for a move and the next thing I knew was hanging at the end of the rope with my handhold (about 8 inches high by 6 inches wide) in my hand, both of us about 10ft out from the rockface.
When it is together it is very nice. My favourite Limestone so far is probably Pot Scar in Yorkshire, though the Limestone I climbed on in Spain was also lovely.